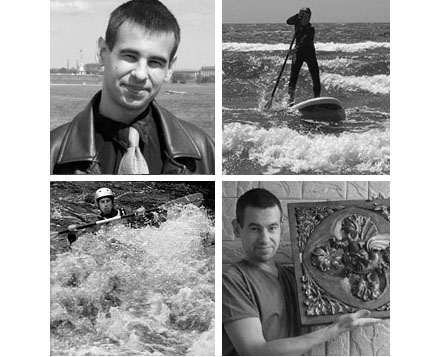 Serge Pronin:

Sociology Ph.D.
ProDesign™ trademark owner.
Since January 2007 home brewer :)

Author of two books on advertising and design:
• «Publicity Illustration: Creative Perception» (before: «The Power Of Sight») / 2002
• «To Advertiser About Design. To Designer About Advertising» / 2004.
• «Advertising Stories» / 2010
• «Quantum of Inspiration» / 2012

Author of a personal program for creative approach in advertisement.
Conducted seminars in Chelyabinsk, Dnepropetrovsk, Kiyv, Magnitogorsk,
Moscow, Saint Petersburg, Saransk.

Publications in magazines Russian Newsweek, Vokrug sveta, Creative Director,
Smena, Gastronom, Advertising Ideas, «Zerkalo reklamy», MediaPilot.

Languages: English, Czech spoken.

In advertising since 1997.
Personal studio since 2002

Worked under projects for
Playboy, Hubert Burda Media, Beeline,
LEGO (MarketingStore), Mir Detstva,
McCann (Nescafe, Nevskoe)
LeoBurnett (Cadillac, Hummer, Opel),
Euro RSCG (Citroen, Peugeot, Persen),
IQ-Marketing (TNK), L'Occitane,
Norilsk Nickel Corporate University,
Paterson Department Stores, NordHafen gmbh,
ProLife, Registrator ROST, Eksmo,
Royal Travel Club
etc.

Awards:




Range of activities includes verbal/visual communication in advertisement.
Elaboration and consulting, educational activities.